---

Born in 1970 at a time of liberal experimentation in education, New Rochelle High School's college-like "school within a school," the Program for Inquiry, Involvement, and Independent Study -- 3Is -- died in 1983 during recessionary budget cutbacks and a conservative emphasis on back-to-basics schooling. It fueled fierce loyalty from its students, parents, and faculty -- and eventually fierce opposition from much of the Board of Education that funded it.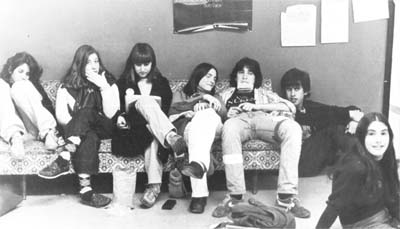 By and for alumni (on this site)
What Was 3Is?An introduction. By Josh Karpf '84.
Attendance. Faculty and alumni news, plus links that often include contact information.
The Eyes. 3I sports in the seventies. By Ira Socol '73.
Photos. Alumni-submitted snapshots.

Social networking (on other sites)
Facebook: 3I Program Alum. Now-active group.
Yahoo Groups: the-white-room. Long-dormant discussion group, active mostly 2003-2007.
Program documents (on this site)
"Postman Proposal." 1969. The original vision for the 3I Program. By Neil Postman.
Proposal. 1970. The revision submitted to the Board of Education. By Alan Shapiro and Don Baughman (uncredited).
Course catalog. 1970-1972.
White paper. 1973. Students evaulate the program after its first three years.
On Falling Apart. Paean by Alan, from The First I, 4/4/1974.
Course catalog. 1974-1975.
Brochure. Mid-1970s.
Brochure. Early 1980s.
Class schedule. 1981.

Alan Shapiro remembrances and writings (all but the obituary on other sites)
Obituary, 1/28/2011.