Home
Reviews
What is eggs Benedict?
Recipes
Nutrition
Medical risks
Feedback

EGGS BENEDICT NEW YORK
REVIEWS
---
Banania has closed.
---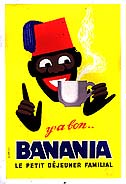 BANANIA
241 Smith St., Brooklyn, 11201 (Carroll Gardens). F to Bergen Street or Carroll Street.
Food:






Service:





Food coma:




You'd still recognize Carroll Gardens if you hadn't been there for a few years. But you might not recognize Smith Street. Although the decade-old boom that redeveloped Brooklyn Heights and Park Slope ignored Red Hook and Gowanus in favor of Cobble Hill and Carroll Gardens, it left Smith alone for a long time, favoring Court instead. Smith Street now oozes with lots of tasty restaurants in which cute, young, thin, cell-phone-wielding people in black wave to each other like Germans in the bistros of occupied Paris.
The popular bistro Banania -- named after a sweet French colonial drink, whose Sambo-like "Ya bon!" character stayed on a wall for a few years, then was eventually was painted except for his red fez, and is now gone entirely -- is bright inside, despite few windows. Shiny copper sheeting lines the lower walls, and the back walls are mirrored. Above long shelves of wine bottles, the room is painted banana and cream. From a new stamped-tin ceiling, frosted globes of light hang from strangely stubby stems. Did the designers want to make the headroom seem even lower? Banania dances between claustrophobic and cozy. Too many small tables, yet they're lined in neatly accessible rows. Nothing to soften the noisy chatter, but it's happy chatter.
Service starts slow but then becomes fast and friendly. Banania brunch always begins with a basket with slices of fresh, crusty bread plus two croissants -- one buttery, one sticky and chocolatey -- plus ramekins bearing butter and jam. Bread plates would be nice, though. Water is served in a big decanter; no need to beg for refills. A small but full bar mixes mimosas ($7) with enough good champagne so that you don't care the juice was born in a carton. Sweet, small bloody Marys, also $7, have moderate spicing and lots of yummy horseradish. Coffee is great, and usually is frequently refilled.
The eggs Benedict ($7) comes quickly. The hollandaise, dressed with chopped chives, is deliciously buttery and lemony -- maybe a little heavy on the butter, but that is pleasure after so much yolky sauce from so many other restaurants. The eggs are perfectly poached: firm and white on the outside, hot and gooey within. The Canadian bacon is lightly cooked, juicy with attractive grill marks. The English muffins, unheard of in the eggs Benedict universe, are a brand other than Thomas's, and are grilled, not toasted.
Banania home fries are very good: small chunks of fried potatoes mixed with just a bit of soft, silky, caramelized onion. Next to them is a generous pile of salad greens (maybe "mesclun" as claimed, maybe not) tossed with a creamy sherry mustard vinaigrette. My best friend tends to get the mesclun as a whole entrée for $6, and likes how it wilts a bit on its hot plate. A huge side order of bacon ($3) has lots of flavor.
Other brunch dishes are good. "Fluffy" eggs scrambled with baby shrimp and chives ($7) is tasty, though there is always someone squeamish about the shrimps' dark, though harmless, intestinal or spinal "veins." Deliciously hot, browned, and folded slices of eggy French toast ($6) are spiked with bananas and raisins, and are served with slices of fruit. A goat-cheese-and-sun-dried-tomato omelet ($6) was well spiked with cheese, a rarity with many goat-cheese dishes, but its hot, pulpy tomatoes were fresh, not dried and reconstituted -- still good, but not as described on the menu. On one visit I ordered the grilled sirloin with eggs ($10) -- nervously, having eaten plenty of leathery brunch steaks. The sirloin was small but delicious: flavorful, juicy, fatty, and well grilled, it and the eggs were cooked precisely to order.
Rest rooms: One, clean and new, if chilly in winter.
Handicapped access:Aisles crowded and front door difficult. A rear door near the kitchen and rest room should offer access.