Home
What is eggs Benedict?
Recipes
Nutrition
Medical risks
Feedback

EGGS BENEDICT NEW YORK
REVIEWS
---
Restaurant Reviews
Manhattan
Brasserie




, East midtown. Tasty dish in a quietly luxurious, Jetsons-futuristic room.
Bridge Café




, Financial District. Yolkless hollandaise means more food coma.
Cupping Room



, Soho. Great sauce and bacon; service confused.
Isabella's





, Upper West Side. Delicious entrée, decorous staff.
Knickerbocker Bar and Grill


, Village. Fine service, abused entrée.
Life Café




, Lower East Side. Tasty dish served in grunge chic.
Oscar's (Waldorf-Astoria)

, East midtown. Bland and undercooked -- unless you're on camera.
The Odeon

, Tribeca. Crudely cooked; slovenly service.
Pigalle



, Upper West Side. Good, well-served food in an unpopular room.
Telephone Bar,


East Village. British atmosphere, if not a British dish.
Time Café

, Upper West Side. Entrée grows old before arrival.


Brooklyn

Caffé Carciofo



, Cobble Hill. Comfortable food, attentive service.
Corn Bread Café




, Park Slope. Good, down-home alternative entrée.
Dizzy's





, Park Slope. Spicy hollandaise, front-row seats.
Junior's




, Fort Greene. Delicious food, bustling crowd.
Mack's Room


, Park Slope. Prix fixe to a la carte means a decline and fall.
Parkside Restaurant


, Park Slope. Diner from hell.
Park Slope Brewing Co.



, Park Slope. Bland but meaty.
Sotto Voce


, Park Slope. Fair entrée; sevice often languid.
Teresa's

, Brooklyn Heights. Ick.
Tom's Restaurant

, Prospect Heights. Hollandaise meets cheese food product. Go for wonderful atmosphere.
12th Street Bar and Grill



, Park Slope. Difficult tasty ingredients; iffy service.
Two Boots


, Park Slope. Careless cooking; swamped staff.
200 Fifth

, Park Slope. Bland food, untrained staff.

---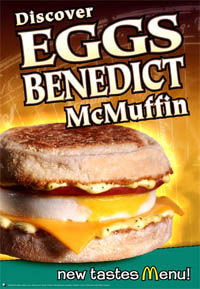 McDonald's Eggs Benedict McMuffin
To "celebrate" Disney's Atlantis: The Lost Empire in the summer of 2001, McDonald's briefly offered an Eggs Benedict McMuffin. After all, as McDonald's press release noted, "Atlantis: The Lost Empire is an animated feature about an inexperienced young adventurer who becomes the key to unraveling an ancient mystery when he joins up with a group of daredevil explorers to find the lost empire of Atlantis." What better tie-in than eggs Benedict?
I was looking forward to this. McDonald's always offers a delicious Sausage Biscuit with Egg, its most lethal breakfast entrée at 550 calories plus 1,160 milligrams of sodium. It also occasionally, too seldom, sells the McRib, made of delectably soft boneless pork parts in sweet sauce. But my initial optimism was misplaced.
McDonald's described the Eggs Benedict McMuffin as being made of "Canadian style bacon, egg, special breakfast sauce, and American cheese on a toasted English muffin." Would it be worth its 450 calories and 25 grams of fat? The Canadian bacon is surprisingly good, but everything started going downhill from there. The yeasty English muffin was nicely toasted but very soft, with a curiously thick skin that resists your teeth till your mandible and maxilla meet. The egg was the usual fat, mysteriously symmetrical slice, cooked through till solid and nowhere near the liquidity achieved by poaching. And then there was the cheese. Why any kind of cheese, never mind orange American cheese food product? Maybe to add the yellow that notmally comes from hollandaise, which the dab of salty, mayonnaise-like "special sauce" didn't begin to approximate.
I am indifferent to coffee, but McDonald's version of it, served in a chemically smelling polyurethane cup and supplied with enough sugar packets make coffee-flavored syrup, is no pleasure. On my second tasting I substituted orange juice which, though reconstituted, was at least pulpy.
For me, the pleasure of the Eggs Benedict McMuffin meal was the accompanying McDonald's hash brown, a flat, deep-fried oval that tastes like a big Tater Tot. At 130 calories, 70 of them from fat, and packed with the goodness of potatoes, partially hydrogenated soybean oil, natural flavor, salt, corn flour, dextrose, sodium acid pyrophosphate, and spice; and cooked in partially hydrogenated soybean and corn oils, antioxidant tert-Butylhydroquinone, citric acid, dimethylpolysiloxane, and natural flavor, it is always delicious.
---
The Eggs Benedict Honor Roll
All reviews, and any errors therein, are mine. But I could not have become this wise (or fat) without the help of Joe Battle, Andrew and Olga Brown, Josh Chu, Peter Dworkin, Corrin Eckert (who launched the fine weekly eggs Benedict posse comprising much of this list, and invented the term "food coma"), Mary Beth Eckert, Kathleen Fridella, Wendy Furdyna, Beth Hulsart, Lisa Kamm, Sally Kuzma, Angus MacDonald, Greg MacDonald, Angela Pillsbury, Juan-Carlos Sobrino, Ann Robichaux, Julie Robichaux, Hadley Taylor, Sylvia Pauloo Taylor, Stacey Wacknov, Paul Wallich, and Lucy Wollin.